Having been interested in SEO for a long time, one of the things I naturally do is look at how many people are coming from the several search engines. While many people seem to care only about hits from Google, I think that 1) monopolies are bad, and 2) precisely because so many people optimize only for Google, there may be an "untapped market" of people who use other search engines. So, I've been doing a little investigating, and here's what I found. Today, I will only be comparing Google with Microsoft's Bing; I may look at Yahoo! or Ask.com some other time.
So, let's begin with this very blog, Winterdrake. Hosted in the US, it's a very young site, having only launched on March 3, 2011… which means that it's just 22 days old today. Naturally, one shouldn't expect a lot of search engine hits on such a recent site (and there aren't), but it allows us to look at yet another interesting factor: which search engine is quicker to index and send hits to new sites? Let's look at a (terrible-looking; I'm no graphic designer, and it shows) chart: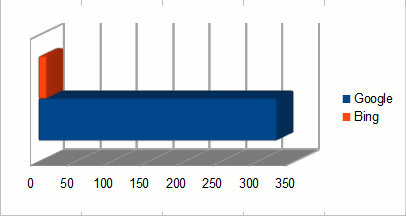 Not very good in terms of Bing hits, is it? Let's look at another, more popular and established site: DragonBall-PT, a Portuguese-language forum, hosted in Portugal, launched in 2007, with mostly Brazilian and Portuguese users, which has a few thousand hits per day: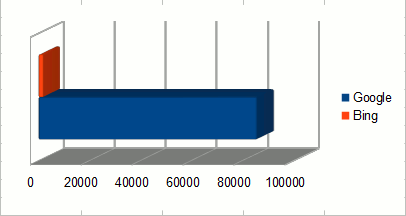 As you can see, while, as an absolute number, there are a lot more hits from Bing (a little below 2000), the proportion in relation to Google is even worse.
This can be explained in several ways. First, Bing seems to be more optimized for the US and/or English language sites, while Google appears to be more "international". Another possibility, of course, is that almost no one in Portugal or Brazil uses Bing. But, to discount the "optimized for the US/English" factor, let's look at a third site, one that is 1) relatively old, and 2) in English, and hosted in the US.
Planet Atheism is the world's top aggregator of atheism-related blogs. It's (by design) not good for search engines, as all its content is duplicated from the member blogs (and every member either asked to join or accepted an invitation; no one is aggregated there without permission), and PA doesn't show individual posts ever. Click on a post title, and you are taken to the post on the original blog. In other words, PA is by design "below" every single one of its blogs in terms of search engine positions; most hits come from people who actually search for PA itself, or for "atheist blog(s)" or something like that.
On the other hand, it's an established site (launched in 2006), hosted in the US, and in English. Let's see how it looks like: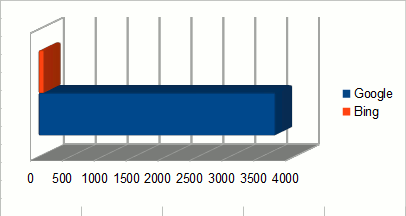 Ouch. Not very good for Bing, is it?
So, we've shown that Bing is sending about 2-3 hits for every 100 sent by Google, a very small percentage. But now for the million dollar question: why? Logically, there are two possibilities:
Bing is performing "worse": that is, either doesn't index sites as well as Google, or it is giving them worse positions — possibly out of the first page for results Google shows in the first 10 results; or
Bing is actually performing "as well" as Google (or possibly even better), but it has only about 2-3% of the users Google has.
Note that, in either case, Google has a lot more users; the question is whether, for the same number of users, Bing is performing worse, better, or the same. And I think we can find out… but this post is getting a bit long, so I'll leave that for Part 2.