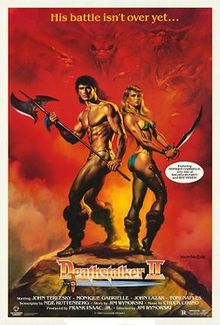 In my teen ears (read "the Eighties"), I remember watching a movie, rented on a VHS tape (remember those?) from a video club (remember those?). What I remembered from it was that it was a fantasy movie, made with a low budget, with some female nudity, and which didn't take itself too seriously. Its name was Deathstalker II: Duel of the Titans.
After more than 20 years, I found it again (not that I kept looking for it for all this time; I remember looking for it on DVD in Amazon.com some years ago, but I think at the time it wasn't available, and that was it), re-watched it, and, yes, it's better than I remembered. 🙂 From what I learned by reading Wikipedia and TV Tropes, this is the only movie from this low-budget series (there are 4 in total) where they didn't take it too seriously, but instead made fun of the fantasy / "Sandals & Sorcery / Conan-like" genre, and in general had a good time. And it shows — the actors are clearly having fun. 🙂
It's not a "deep" or brilliant movie, of course, but it's funny, entertaining, and it's a perfect "beer with friends" film, in my opinion. Try to find it; if you liked the description so far, you won't regret it.
And it includes this scene, which makes me laugh every time I see it, and which, incidentally, is just my second upload to YouTube ever: