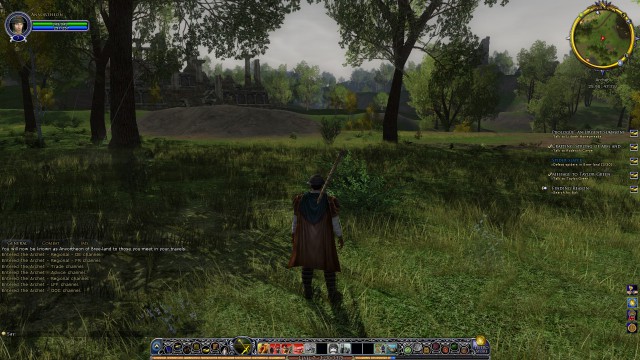 Looks good, doesn't it? And yes, go ahead and click on the image above to see it in full size. After that, your browser will probably scale it to fit in its window, so click on it again to see it as nature intended. 🙂 The thumbnail doesn't do it justice, of course.
For the curious, this is on an Intel Core i7-860 with an Nvidia GeForce 470, with DirectX11 enabled, and with all details options set at maximum, except, IIRC, the shadows, which, as good as they are above, can even be made to look better. And, yes, the game runs at about 60 fps on average with these settings.
As a comparison, here is Doomdark's Revenge, a 1985 strategy/RPG on the humble 48K ZX Spectrum: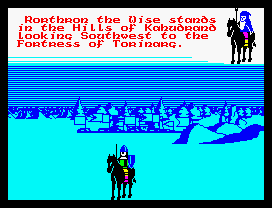 You could turn the screen in 8 directions (while in LOTRO, of course, you can turn around smoothly in every direction, move the camera, etc.), and it took about 1 second to redraw the screen. Which is perfectly fine for a non-real time strategy/RPG, of course.
Incidentally, my character's name on the first game (which you can read in the screenshot) comes from the second game. 🙂
P.S. – The Lord of the Rings Online is free to play these days (though some features may eventually require the spending of real money). Just register on www.lotro.com or www.lotro-europe.com, depending on where you are. I'm on the latter, on the Withywindle server. For more info on the game, I suggest its TV Tropes page.