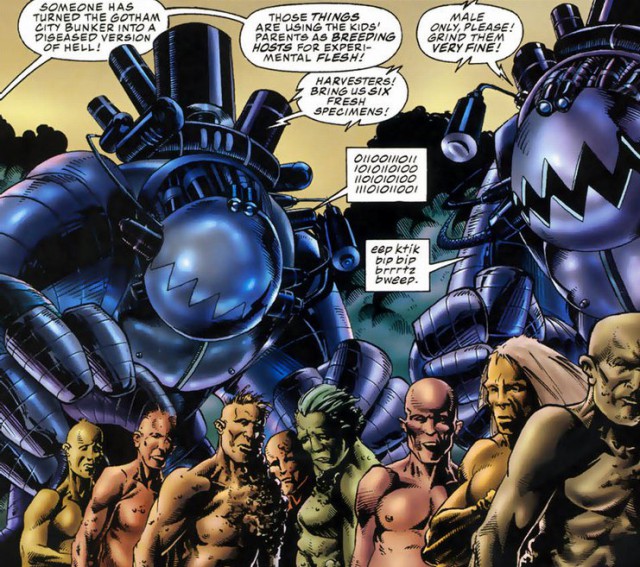 The above image is from Superman: At Earth's End, an Elseworlds comic from 1995. The comic itself is terrible: sometimes approaching "so bad it's good" territory, but not often; most of the time it's just boring, senseless, and the supposed "moral" is not only self-contradictory ("guns are bad", therefore Superman saves the day by shooting every bad guy with a huge freaking gun… but guns are still bad, mmkay?") but doesn't even make sense in the context of the comic. But then there's this panel, where Superman says the brilliant line that is the topic of this post:
"Someone has turned the Gotham City bunker into a diseased version of Hell!"
Now, yes, the quote is obviously stupid and makes no sense. Linkara said it best: "because a regular version of Hell is just so pleasant!" But I challenge you, dear readers, to consider the following: what could be going through the writer's mind as he thought of that line and put it to paper? What kind of diseased version of a strange, warped mind could consider that comparing something not simply to "Hell", but to "a diseased version of Hell", a good idea? Was he doing it for fun ((I hope!)), just like the authors of the Doom Comic ((totally deserving of a post here, in the future))? Or did he actually think that this comic was enjoyable to read and had a thoughtful, worthy message?
Oh well. It was the Nineties. 🙂
P.S. – he also thought it was a good idea to have one robot talk in binary — but saying the zeroes and ones out loud, which certainly makes sense in terms of data efficiency — and another robot talk in R2D2ish. Need I say more? 🙂