Note: this post is expanded from one in my old blog, The Games of My Life.
From the mind and programming skills of Julian Gollop, author of Chaos, came this masterpiece in 1988: Laser Squad, quite probably the best and most popular turn-based tactical game in the 80s.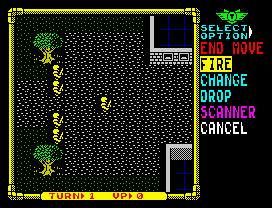 If you weren't around at the time, you may not realize the sensation that Laser Squad was back then. Even though it was a turn-based tactical game, it was, quite uniquely, accepted by many people who'd never touched a strategy game before. I was in school back then, and I remember the game being popular in my class, especially in its two-player mode — and I'm talking about kids (not that I wasn't one, but I was always… kind of different 🙂 ) whose favorite genres were sports and driving games. Even later on, in the early nineties, the game was still popular among my friends — and, again, most of them didn't have any interest in strategy games (except, in a few cases, Chaos… you may be noticing a pattern here).