Note: this post is unchanged from one from 2005 in my old blog, The Games of My Life. But please see the new section at the end.
This game has a big problem. The load times. For some reason, in my Athlon XP 2000 with 1 GB of RAM and a fast hard drive, they're huge – not "read a book"-like, but, still, 30-60 seconds to load a battle and 30-60 seconds to come back to the main map are, IMO, too much. Especially since Rome: Total War, their more recent and even more detailed game, actually has shorter load times.
That's the problem. In almost every other respect, Medieval: Total War is virtually perfect.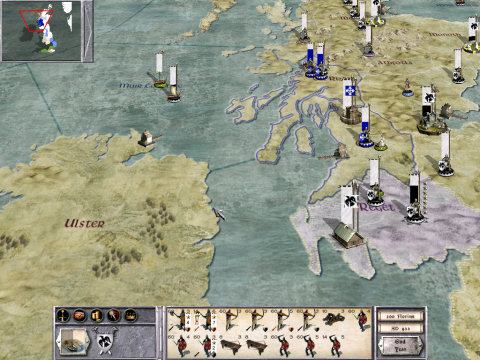 M:TW, like its predecessor Shogun: Total War and its successor Rome: Total War, is a historical turn-based strategy game with fantastic real-time battles. These are really wonderful – no other game, except perhaps Close Combat, simulates a battle so well – and that one was squad-based. This one, though, can have armies of 10.000 men. On each side. And they all move, shout, fight and, possibly, die.