Note: this post is expanded from one in my old blog, The Games of My Life.
Back in time, to a 1982 game I played in 1983, on my first computer (well, technically my father's), a 48K ZX Spectrum: Melbourne House's The Hobbit.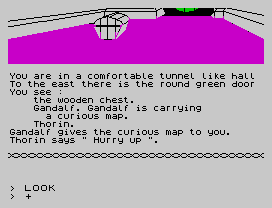 This game… well, it has a story, and I'm not talking about the "Bilbo, Gandalf and a bunch of dwarves go on a quest to retrieve a dragon's treasure" one. I mean a personal story. I guess I could say that this game changed my life — as much as anything can change one's life, I guess.
So you'll have to bear with me — or, of course, skip this post. Because this one is as much about "why I'm the way I am" as it is about the game — perhaps more. And it's a long one.

More after the break…
Continue reading The Hobbit (ZX Spectrum, 1982), and how a kid became a geek